Message on inside front cover of program:
Dear Safety Town Colleague:
The major function of this workshop is to share materials and ideas especially to assist and guide Safety Town personnel. Only in this manner can we utilize every potential in preparing and presenting a high degree of safety education standards to our children through the Safety Town.
All aspects of this workshop have been planned to stimulate thinking, excite the imagination and expand the horizons of all who attend. This is essential since we are working with and educating young children who do have much imagination and energy. We want – everyone – attending to become actively involved in this workshop.
I hope each participant will return to their program and community with a sense of renewal – and – an even greater feeling of dedication toward the tasks of safety education in leadership, guidance and teaching.
This was the FIRST one day (8-hour) workshop ever held anywhere in the world specifically for preschool-early childhood safety education. It was organized and conducted by – Dorothy Chlad – at the Marriott Hotel on May 19, 1971 in Cleveland Ohio.
Over 150 people attended from several states. Safety Town personnel from 26 communities within North Eastern Ohio – actively participated in presentations and demonstrations.
As a result – attendees went back to their respective states and communities and began promoting – the importance of preschool-early childhood safety education in their schools, communities and organizations.
Message on inside back cover of program:
Performance objectives for your program:
Teachers and uniformed personnel must achieve their planned objectives.
Children should show achievement before new rules are introduced.
Children should understand and know what isexpected of them.
Points to achieve these objectives:
Review purpose.
Transfer purpose to proper language.
Breakdown to specific objectives.
Allow sufficient time for self-participation.
Did you know?
Because the original Safety Town traffic program was considered a ineffective program and not educational, Dorothy Chlad's major priority was to develop an educational curriculum and stress the educational values. (Refer to Challenges)
She constantly explained – proper and effective teaching methods – at every workshop, meeting, presentation and interview. Her goal was to set the standard for the highest degree of safety education.
During 1963-1965 she visited all of the 12 programs that were in operation. She was very disturbed at what she witnessed:
children being punished for coloring out of the lines
(due to lack of finger dexterity development)
standing in the corner for making improper turn signals
(they don't even know their right from left arm)
being told to follow the person in front of them
(what happens when there is no one in front)
From 1963-2008 Dorothy Chlad has given over 2000 workshops, seminars, training sessions, presentations to education, corporate,civic, media, government organizations at the local, state and national / international level.
The majority were conducted during 1971-1991 mainly as a result of the workshops (later called seminars) and involving the media in the workshops to explain how to prepare PSA's and articles.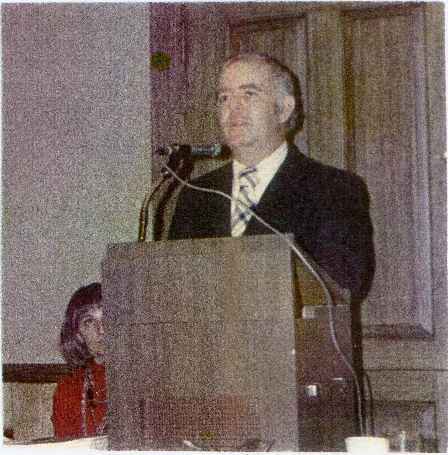 Guest Speaker Franklin Haering Ph. D.
1970 Program Chairman 
NSC School and College Congress Supervisor of Safety
Montgomery County Public Schools
Rockville, Maryland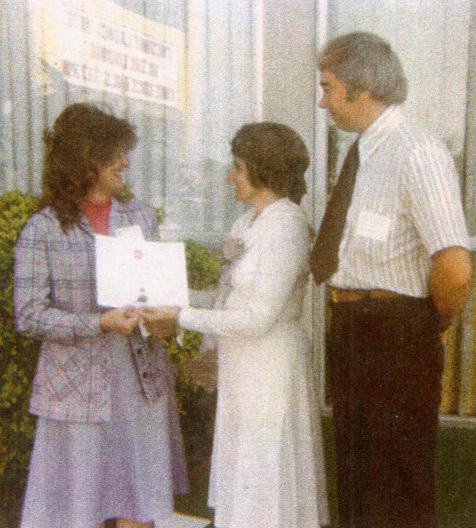 Upon completion of every workshop or seminar, Dorothy Chlad presented every person a Certificate of Attendance. Here Connie Sousa State Department of Highway Safety, AZ 1977 receives her certificate while, Bob Haie, waits to receive his. 
In 1974, Connie was the first to receive the second edition of the Safety Town Packet which she used to organize 20, 1 hour courses, Safety Town programs at various shopping malls throughout the state. Great job Connie!
During her volunteer travels to local communities throughout the country – she would make a deal – she would make a presentation and assist them BUT they in turn had to promise to set up a Safety Town in a nearby community.
She also selected and appointed state and district directors, later known as coordinators. (Since they were "coordinating" people, that just seemed to be an appropriate title)
At each workshop, seminar, meeting the respective coordinators are involved in organizing and conducting the event. These outstanding, dedicated people volunteered their time and money to travel to local and state events to promote – SAFETY FOR KIDS! 
COORDINATORS – STAND UP AND TAKE A WELL – DESERVED BOW! Refer to Coordinator's Tab.
YOU HAVE BEEN A MAJOR FACTOR IN THE SUCCESS OF SAFETY TOWN AND NATIONAL SAFETY TOWN CENTER!
---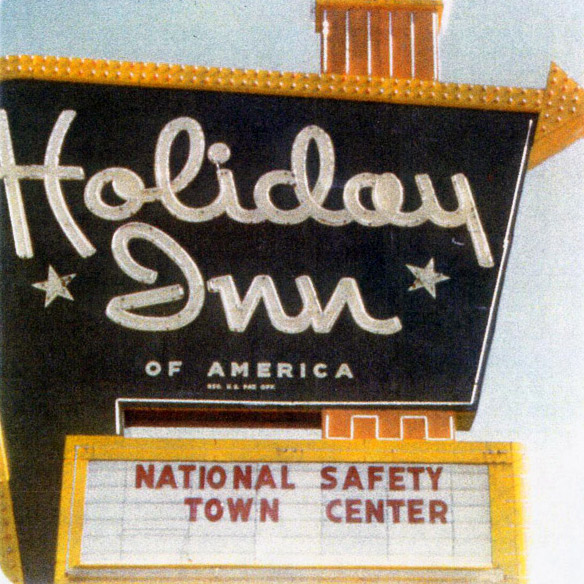 Indianapolis, IN was the home for this 8-hour seminar in 1978.Thanks to all the Holiday Inns who displayed our organizations's name in lights. What great publicity for all to see.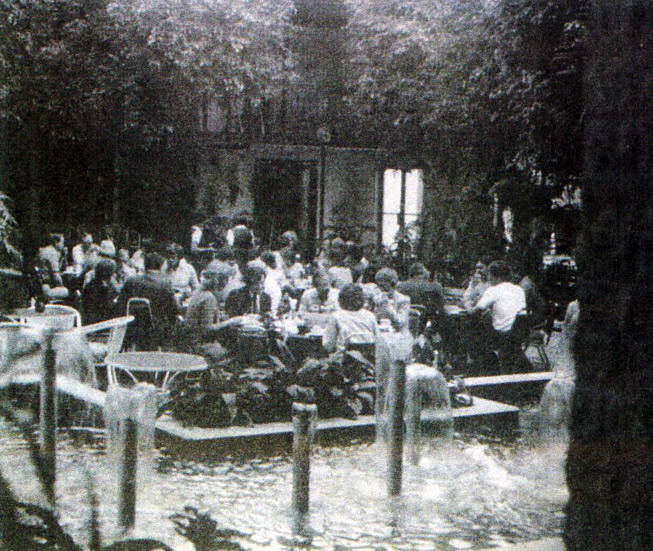 This delightful luncheon setting took place in the very beautiful courtyard of the Sheraton in Aurora, OH, 1983. A day prior to this seminar, a 4-hour training session was conducted by Dorothy Chlad for teenage instructors at nearby SEA WORLD. After the session, everyone enjoyed the remainder of the day with SHAMU and his many friends. What a WONDERFUL day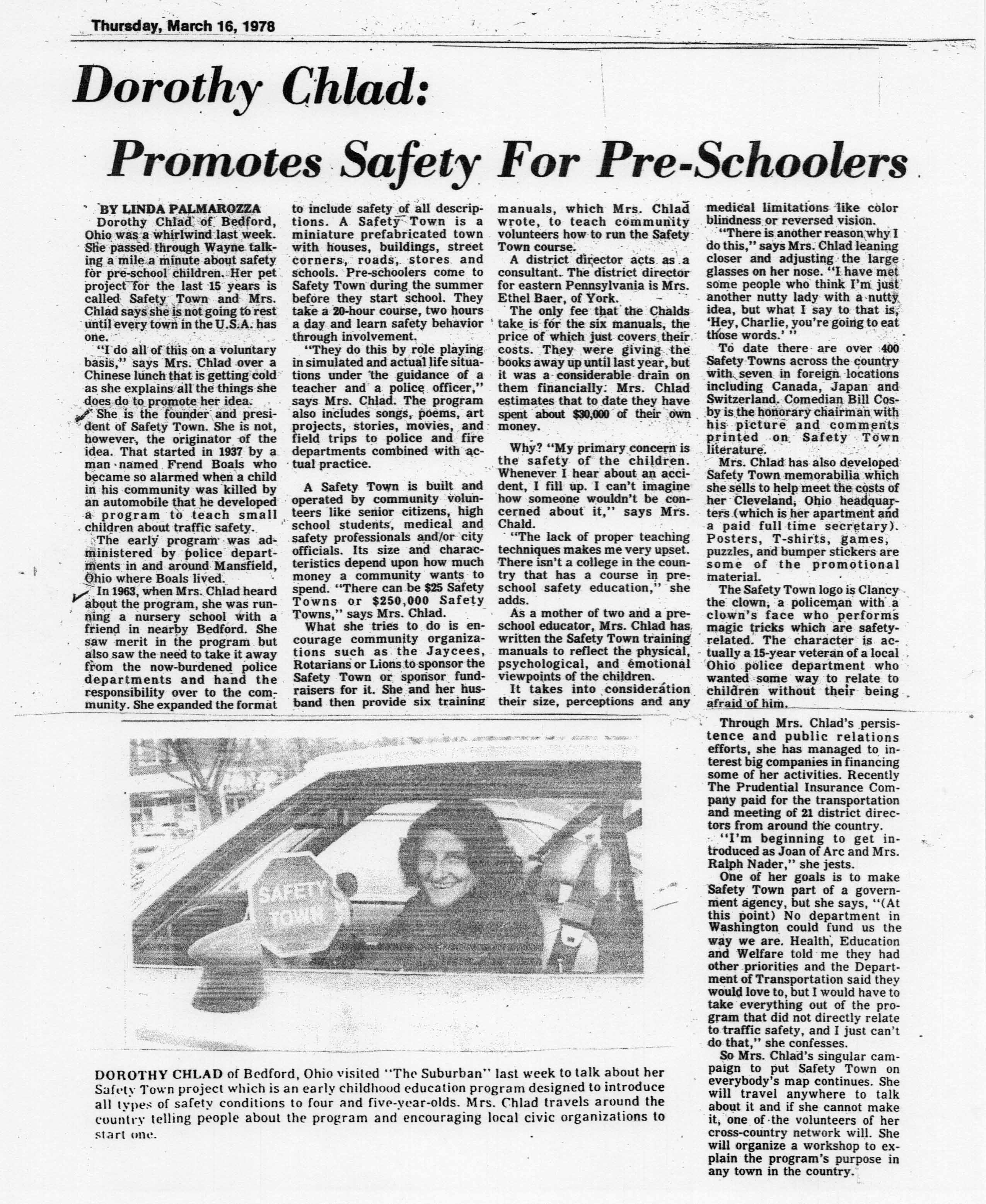 SEMINAR COMMENTS
Thank you so much for the Safety Town Packet. We can see a lot of time and effort has gone into it.
MA 1988
You always have a way of renewing enthusiasm for Safety Town. Thank you for your help and encouragement.
MO 1987
I feel a two or three day seminar would be extremely beneficial. It would give more time for in-depth discussions and possibly some classes, educating us in specific areas.
OH 1986
Involving parents in the daily classes helps us become more familiar with the progress and safety aspects and helps us to teach the children effectively.
WV 1985
I have attended three of your seminars – you outdid yourself on this one. It was great and very informative. Well organized.Great learning experience. Safety Town is a great program. We owe this program to our youth.
OH 1984
It is the best workshop I have ever attended. Just keep up the good work! Many thanks!
SC 1983
An excellent workshop. Dorothy Chlad really knows the area of child safety. Few people know how to relate to small children. I feel that everyone should have an opportunity to attend a workshop. Many times we tend to lecture rather than giving the child an opportunity to participate in the learning experience.
NC 1982
I have learned a lot at the workshop. I plan to get all the materials and work more with our schools.
MI 1981
As an elementary school principal in the suburbs of Chicago. I am very interested in receiving all information available. I have heard nothing but extremely positive comments from various people who have been associated with the Wilmette Safety Town program and look forward to implementing it at Willowbrook School.
IL 1980
Your enthusiasm and dedication to the program is only superseded by your practical knowledge. Outstanding, fantastic, great! I have been in safety education eight years and thought I knew the answers, but you sure passed out some excellent, effective
new ideas.
IN 1979
It's well conducted, all-inclusive and informative. You are a well-informed lady and I am very impressed with your enthusiasm and professionalism. Really, really enjoyed your whole presentation last Tuesday in Portland. I can't remember when I have totally agreed with a speaker – I did with you. You are one sharp lady and a crackerjack educator. Unless they ride me out on a rail, we will be opening a Safety Town in Grants Pass next year!
OR 1978
Absolutely fantastic! I was apprehensive about spending a whole day at a workshop. I sure am glad I came! At no time was I bored or uninterested. You are very well prepared and have all resources at your fingertips. You have an excellent program which is presented locally, with lea-way to innovate and mold to local requirements.
AZ 1977
Yesterday's workshop was a very rewarding experience for me. Your devotion to the Safety Town Center and all that it stands for is quite an inspiration. I personally want to thank you for all your hard work and sacrifice that you have given to equipping children and parents to better live in a very unsafe world.
TX 1976
The Center and the workshops should keep expanding to be a powerful force for child safety. The workshops have been very successful and extremely informative since 1971. They have benefited hundreds of people.
NV 1975
I came home from the workshop feeling much more confident in teaching our program this summer. Very worthwhile program. Many new ideas presented. A definite need to establish programs throughout the country.
PA 1974
LOCATIONS
April 30th: Pennsylvania (Monroeville
Hospitality Motor Inn (Rodi Rd)
Exit 6 Pa. Tpk-West on 1376
May 2nd: W. VA. (Huntington)
HOLIDAY INN EAST (Rt. 60)
Exit 5 off 164
May 3rd: N. Carolina (Greensboro)
HOLIDAY INN – Downtown
May 5th: Kentucky (Lexington)
HOLIDAY INN
Jct. 175 & Newtown Pike.
May 6th: Ohio (Dayton)
HOLIDAY INN
Exit 50 – 175
May 9th: NEW YORK (Utica)
HOLIDAY INN
Downtown
May 9th: Ohio (Bowling Green)
WINTER GARDEN LODGE
Exit Rt. 105 off 175
May 11th: Maine (Augusta)
HOLIDAY INN
I-95 & Western Avenue
May 11th: Ohio (Kent)
MISSIMI RESTAURANT
Rt. 59
May 12th: Mass. (Frarninghaw)
HOLIDAY INN (Worcester Rd.)
Exit 13 Mass. Tpk. – Rt. 9
May 13th: New Jersey (S. Plainfield)
Prudential Eastern Office Durham
S. Plainfield Exit off Rt. 287
May 14th: Penn. (York)
HOLIDAY INN . Downtown
May 16th: Michigan (Ponton)
HOLIDAY INN
1900 S. Telegraph Rd.
May 16th: Ohio (Mansfield)
HOLIDAY INN
Lauer Rd.
 May 17th: IND (Warsaw)
HOLIDAY INN 130
Map 18th: Illinois (Lincoln wood)
HYATT HOUSE
(Ray Foley's Restaurant)
Exit Touhy East off Eden's
Expressway
May 18: Ohio (Columbus)
COVENTRY INN (Doblin-
Granuille Rd.)
Exit Rs. 161 West off 171
May 19: Wisconson (Madison)
HOLIDAY INN . (Northeast)
Exit 151 West off 190 & 94
May 20th: MINN. (Minneapolis)
HOLIDAY INN (Capitol)
I 94 at Marion Street
May 21st: Iowa (Des Moines)
RAMADA INN (Downtown)
Rt. 235 . Expressway
May 23rd: Missouri (Columbia)
COLUMBIA INN
Jct. 170 & 63 S.
May 25th: Arkansas (N. Little Rook)
HOLIDAY INN . Exit 153A off 140
May 26th: Texas (Dallas)
HOLIDAY INN
Cockrell Hill Rd. Exit off 120
May 28th: New Mexico (Albuquerque)
HOLIDAY INN . Downtown
Map 31st: Arizona (Phoenix)
HOLIDAY INN
E. Van Buren Exit off 117
June 2nd: California (Glendale)
HOLIDAY INN (W. Pioneer Rd.)
Pacific Exc off Pasadena Fwy.
June 7th: Utah (Provo)
HOLIDAY INN Exit University Ave.
June 9th: Colorado (Denver)
HOLIDAY INN- US 40 & I 225
June 11th: Kansas(Topeka)
HOLIDAY INN
Exit Fair lawn & 6th off 170
SAMPLE – WORKSHOP SCHEDULE