THANK YOU –
NATIONAL SAFETY TOWN CENTER
and DOROTHY CHLAD for promoting
SAFETY TOWN since 1964.
Check out our National Safety Town Center Videos!
Safety Town was founded by policeman Frend Boals in 1937 in Mansfield, OH as a traffic safety education program for pre-kindergarten children.The program was expanded and updated by nursery school teacher Dorothy Chlad in 1964 in Bedford, OH as a comprehensive safety education program.
Mainly through the efforts of the – National Safety Town Center -the program grew from approximately 20 in 1964  –  to 100 in 1973  –  to 700 in 1983  –  to 3500 in 2013.  Based on Luce Press Clips and files.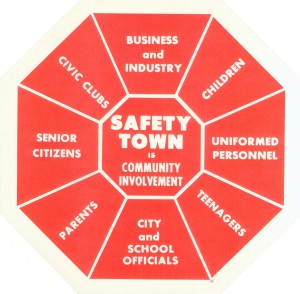 Today the words – child safety and preschool safety – are heard frequently every day.  That was not the case in the early years.  Promoting preschool safety and obtaining appropriate education information and materials was very difficult. Most of the information was geared to the elementary age child, mainly in traffic, bicycle and bus safety and kindergarten was not required in many states.   (History tab)
"It is my pleasure to have this opportunity to say – THANK YOU – and express my sincere gratitude to EVERYONE who has been or is involved with any aspect of the program and organization.
Because of your dedicated efforts and concerns for the safety of "our" precious children many accidents were prevented which eliminated the pain, grief and sorrow to many families.
You have fertilized a seed that has grown into a huge oak tree with its branches extending to – community involvement."
With kindest regards,


Children throughout the world have been "introduced" to safety awareness through the Safety Town program which has been recognized internationally as a successful education program. Local communities yearly provide the program and assist other communities to establish a "Safety Town in their town" to help our children and parents prevent accidents.
---
What is National Safety Town Center?
A non-profit organization that serves as a resource and coordinating agency for local communities to establish and conduct a – Safety Town in their Town – and assist nursery / elementary schools, special classes and organizations.
It has provided speakers, information, assistance, books and materials to over 3500 communities throughout the United States and 38 other countries.
Millions of children, teenagers, teachers and parents have benefited from the program through the efforts of National Safety Town Center and the – community involvement – within each community. Their concern and dedication has resulted in preventing accidents and saving lives of "our" precious children.
Established in 1964 by Dorothy Chlad, it was the FIRST and ONLY organization dedicated solely to promote preschool and early childhood safety education. In 1982 – The International Child Safety & Health Center – became a reality to accommodate "spin off" programs, such as Safety Village, Safety City, Safetyville and programs in other countries.
---
Why a National Safety Town Center?
The major objective – to have a "Center" place for anyone to request information, assistance and material and to promote the importance of preschool / early childhood safety education through the – New Concept of Safety Town – 1965. This name was request by members of NSC; CAC; NHTSA; NCEA to differentia the upgrade from the traffic program to the comprehensive program.  (Details-Challenges tab)
Unfortunately, some programs that operated in the early years, were labeled non-educational and considered ineffective. This was truly unwarranted since there was no safety educational classes available for personnel and no detailed information as to – child development as it relates to their safety capabilities. These dedicated teachers, police officers and firemen taught safety lessons based on their experience and what they felt was best for the children, which including color sheets, poems and songs.
As the – New Concept of Safety Town – gained approval and communities expressed interest in organizing a program, three questions were constantly asked:
1. How do we arrange for a speaker for our organizational meeting?
2. Who will come to train our teachers and volunteers?
3. Where can we purchase visual aids and classroom material for the children?
As a result, Dorothy Chlad, began to write her manuals: organizational – curriculum – teenage training – publicity – general information – teenage instructor – parent sessions – and developed classroom activities and visual aids, safety puzzles with matching hand – eye coordinating posters, color and reading books with music tapes, safety town board game, certificates, etc.
---
What has National Safety Town Center Accomplished?
It definitely has succeeded and surpassed its original mission – and – plans to continue to promote, establish and provide the highest degree of preschool / early childhood safety education for children everywhere.
After reading through each specific accomplishment, listed by categories on the homepage, you will better understand the reasons for the success of the program and organization.
Their efforts are much easier now through the internet and websites of local programs who assist with providing information to new communities. THANK YOU – for caring and sharing – this is a very important program!
Since National Safety Town Center was the first and only organization dedicated solely to preschoolers, it served as a catalyst for development of other children's programs. As the success of Safety Town grew, people began to realize the many "spin off" benefits to educational, safety and health organizations, corporations and media.
Local, state and national organizations increased their membership; corporations manufactured and marketed various items and everyone enjoyed "free" publicity from the media. Today, they are all helping to inform the public of the importance of – SAFETY FOR KIDS!
Information about SAFETY TOWN or NATIONAL SAFETY TOWN CENTER
or how to start a – SAFETY TOWN in YOUR TOWN –
Just call 941-953-5222 or email – [email protected]
We are no longer associated with Bill Cosby and no longer carry any items with reference to him.